Through motorcycle insurance offerings, Insurance King strives to provide affordable motorcycle insurance to all types of riders. Insurance King offers coverage for most manufactured brands of motorcycles. Examples are: Harley-Davidson, Honda, Suzuki, Yamaha, Kawasaki, BMW, Iron Horse, Triumph and many more. In addition, scooters and mopeds are also insurable with Insurance King.
An Insurance King agent will go over all your coverage options available. Don't worry if you don't have the best driving record. Because, an Insurance King agent can also help you find affordable coverage. Even if that means to remain legal to ride in your state. Simply, insure  your motorcycle with the required minimum liability limits.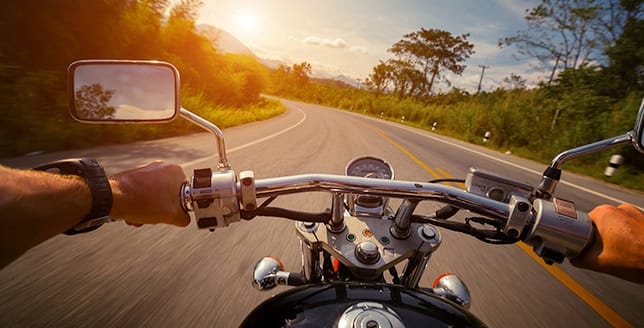 Customize coverage options with Insurance King
Replacement Coverage, Excursion Diversion, Roadside Assistance, Rental Reimbursement, Physical Damage Plus (uses genuine manufacturer parts), Gold Program (Rental Reimbursement plus $5,000 Optional Equipment included with Comprehensive Coverage).
Insurance King can also insure antique cycles with our Vintage Program available for motorcycles 30+ years old.
Huge discounts on motorcycle insurance are available for more experienced riders! In addition, members of riding clubs or associations, multiple motorcycles, and homeowners, also add to the discounts.
Motorcycle insurance: Riding to Sturgis?
Ask an Insurance King agent about adding Excursion Diversion coverage. When you crash your motorcycle more than 100 miles from home, Excursion Diversion coverage pays for eligible expenses such as food, lodging, lost deposits, transportation, and towing. Additional coverage may also be provided for damaged safety apparel. Excursion Diversion is included in the Gold program.
Coverage Required in Most States
All Insurance King Motorcycle Policies include State specific minimum liability requirements to make sure you are legal to ride in the state you live.
Bodily Injury Liability is available 
Reimburses bodily injury expenses, including hospital bills and medical care, that you may be held responsible to pay if you are at fault for an accident that injures someone else, other than a guest passenger.
Guest Passenger Liability Coverage
If you ride with someone on your motorcycle this is a very important coverage to add, as this coverage will pay for liability for a guest passenger riding with you on your motorcycle.
Property Damage Liability
Provides reimbursement to repair someone else's property when you're determined to be at fault for an accident.
Uninsured/Underinsured Motorist Coverage
Provides reimbursement for expenses associated with injury or death from an accident caused by an uninsured,
underinsured, or hit-and-run driver.
Comprehensive Coverage
Provides reimbursement for repairs or replacement if your motorcycle is stolen, vandalized or damaged in some way other than in a collision. In other words, includes loss or damage from fire, flood, falling objects, wind and collision with an animal.
Collision Coverage
Pays for repairs to your motorcycle for damage caused by an accident.
Medical Payments
Pays hospital bills and medical care expenses for you or a guest passenger injured in an accident, whether you are at fault or not.
Call Insurance King today or fill out a quote request for a motorcycle insurance quote. Our agents will check product availability in your area. Then you can decide how much coverage is the right mix for you. Because, after all it is your motorcycle and we understand you want it covered correctly!
Get a Car Insurance Quote
Visit our Spanish Site
Get a Free Auto Insurance Quote